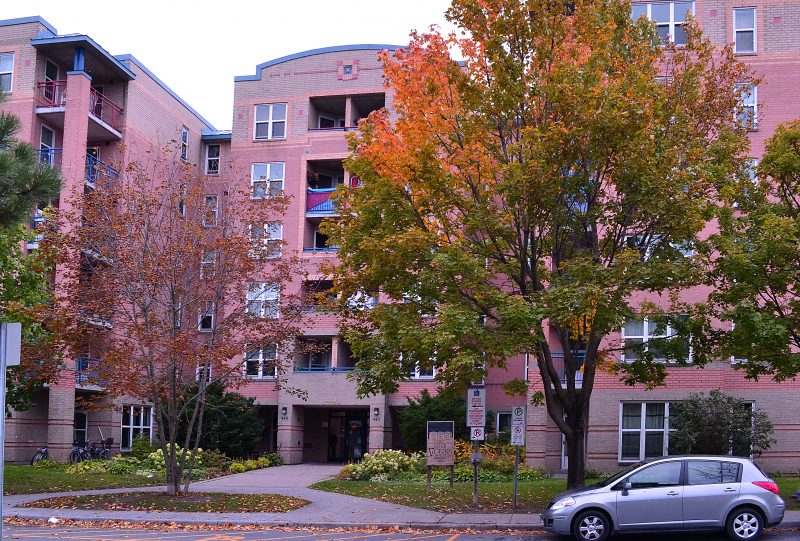 Coop Voisins was established in 1991 in central Ottawa as a bilingual housing cooperative. Our building is six storeys high and has 76 units.
The building is clean and quiet, and the residents are friendly. A full-time Manager and Maintenance Person manage the Coop under the direction of the Board of Directors. As a member of a housing cooperative, you can become involved in the decisions that affect your housing. Members vote to approve housing fees (rent) in the annual budget, members elect a Board of Directors each year and they must approve any by-laws that are proposed. Each member of the coop is encouraged to participate in the governance of the Coop by attending members' meetings and joining a committee or other activity which contributes to the quality of life in the Coop.
Many members volunteer about 4 hours per month towards the running of the coop and other activities e.g. producing a newsletter, organizing social events, maintaining the flower beds and grounds around the Coop and keeping the laundry room clean.
We offer both subsidized apartments and competitive, market rate apartments in our mixed income community. To apply for a market rate apartment, download our Membership Application (in PDF format). To return the completed application, see our Contact Information.
Applicants interested in our subsidized apartments should contact The Registry at 2197 Riverside Dr. Ottawa, 526-2088. The Registry looks after our waiting list for subsidized units.
Current market housing charges are as follows:
One-bedroom apartments: $791/month
Two-bedroom apartments: $966/month
Three-bedroom apartments: $1072/month
Hydro and heat are not included. We have 50 plug-in parking spaces which are available for a charge of $40/month.
All units come with:
Wood Parquet Floors in Main Rooms
Carpeted or laminate flooring in bedrooms
EnergyStar® Fridge and Stove
Balcony or Patio (see photos of balconies and patios that were part of a garden contest, below)
Generous Closet and Ensuite Storage Space
You also have access to:
Inexpensive on-site Laundry Facilities
Locked Bicycle Room
Meeting Room and Common Room, which can be inexpensively booked for personal meetings or parties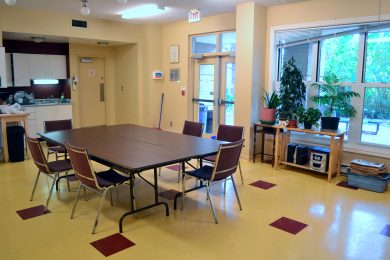 Outdoor Kids Play Structure
Well stocked, volunteer-run library with English and French books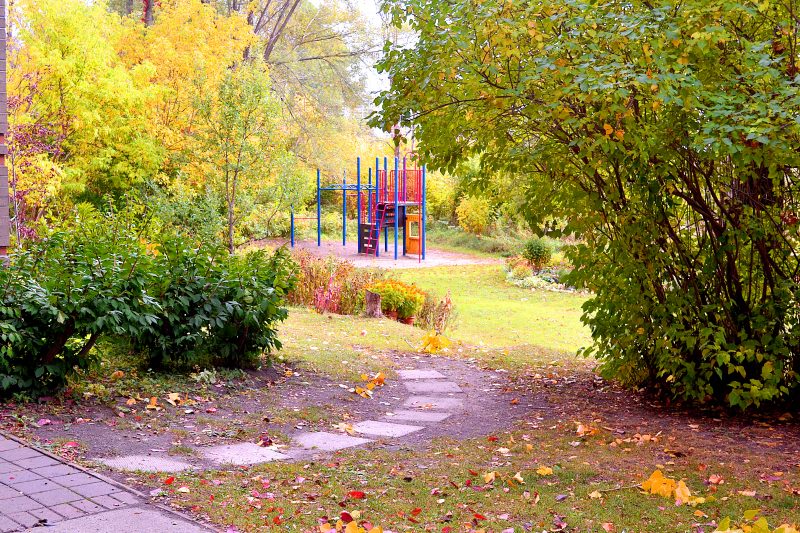 Regular Social Events (for both adults and kids)
Attractive Flower and Herb Gardens on the Voisins Grounds and plots in the Strathcona Heights Community Garden just a minute away can be rented for growing vegetables and flowers.
Coop Voisins has an active Garden Committee, which sponsored this balcony and patio garden contest. These are photos of some of the balcony gardens and patio gardens that were part of the contest.
Our suites are big and bright, and corner units come equipped with large eat-in kitchens. Some of the first floor units also come wired with spaces for your own dishwasher, washer and dryer.
Two 1-bedroom units and two 2-bedroom units are wheelchair accessible (there is a waiting list).
Our Units Page gives details on the layouts of one, two and three bedroom units.
Our Location Page provides details on our location, maps and directions to our building.
Our Neighbourhood Page will show you a list of nearby parks, stores and other amenities.